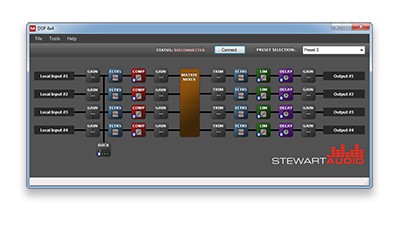 FLX-E Control and Reporting Application
Stewart Audio's FLX-E Control and Reporting Application allows the user to configure and monitor FLX-E Series amplifiers via an Ethernet (TCP/IP) connection). It features an intuitive user interface for I/O configuration, gain stages, compression, filtering, and mixing configurations. It provides realtime configuration with signal level feedback.
A new version (V1018) was released on April 7, 2020. This version allows the user to sort the various "discovered" FLX-E devices on the system page by clicking on the desired column title. It also fixes minor bugs in the RS-232 responses.
Uninstall previous version (if any) before installing a new version.